QR-512B Sunny 512 DMX Controller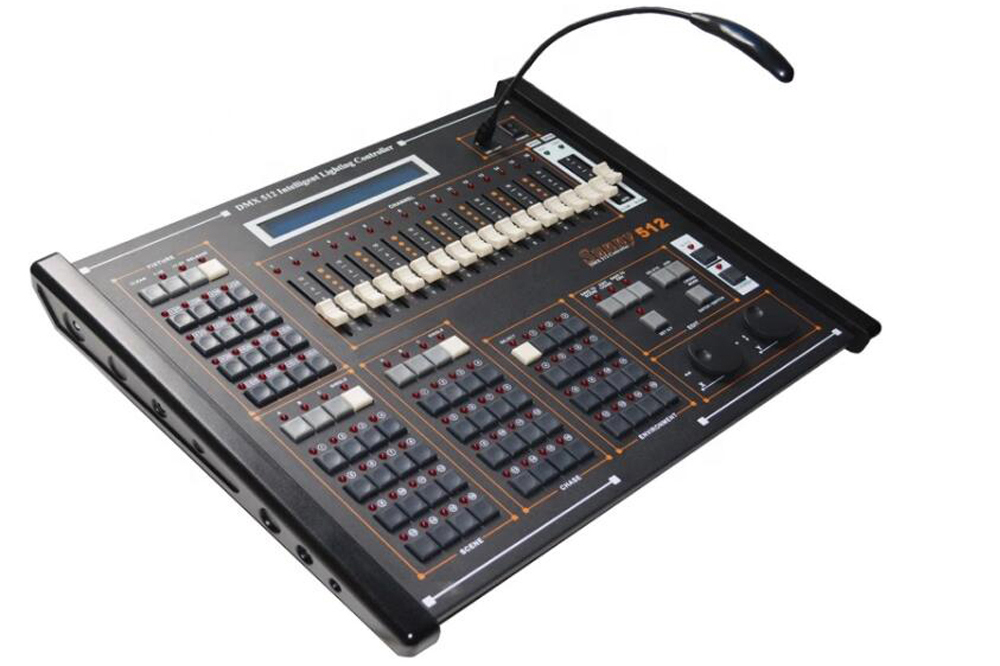 Technical Parameters
DMX512/1990 standard 512 DMX control channels.
4 output with separate optical isolated
Up to 32 scanners may be connected with a maximum of 16 channels each.
A large back light LCD to display operation parameters
16 channel faders plus 1 speed and 1 cross control fade
1600 chase steps maximum. 48 chases - up to 99 steps each. Speed and cross time of each step can be set separately.
Speed adjustable by music active or manual mode
SPEED fade time range is 0.01s-25.5s and CROSS fade time range is 0s-25.5s and the total time amount of current status will be program step time
48 scenes can be used directly
8 chases and 48 scenes can run at the same time.
And 32 scanners can be selecte together
The X/Y channels of different fixtures can be controlled by PAN/TILT wheel together
16 Bit control for PAN/TILT fine adjustment
15 environment programs to output the combination, which are composed of different scenes, chases and manual output quickly
The music trigger source can be selecte between audio line input or internal microphone
Easy to learn and operate
The Data auto-saves. (Through the electronic memory storage and it can be changed freely)
High performance switching power supply, with extremely low power harmonious distortion and wide range of voltage, suit for the requirement of different country simultaneously
LED lamp connector
Power input: DC9V 1000mA
Dimension: 498mm × 420mm × 115mm
Net Weight: 6.5kg
New Function
① During program running, the program will run in preset speed when SPEED & CROSS faders at AUTO position otherwise the running speed will be total amount of current SPEED & CROSS faders.
② When run Chase and environment program, press CROSS ode button to change CROSS mode between all channel mode or only X/Y mode.
③ After set PAN/TILT wheel, the faders and PAN/TILT wheel could control same channel value together (faders change channel value and PAN/TILT wheel fine adjust value).
Up to CE standard, UL standard and GB7000.15-2000 standard